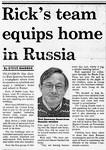 (click page)
In 1992, a year after the Coup in Moscow, Rick Spurway joined a tour to Russia and Belarus to find out what was happening. While in St Petersburg Rick decided to employ a guide and driver to take him on a few personal trips to towns and villages in the surrounding Russian countryside. This included Novgorod, the location of Ivan the Terrible's Castle. One evening, on their way back to St Petersburg, Rick noticed several groups of young people running about like packs of wild animals. They had very dirty hands and faces, and were dressed in tattered clothing. Rick was told these were the "street kids" of St Petersburg, and there were 12,000 of them living in the sewers and train stations of the city. Humbled by the experience, Rick said he wished there was something he could do to help - however small.
A few days later Rick's guides stopped their vehicle outside a block of flats and invited him to follow. Here everyone was welcomed into a private apartment. After welcome tea and cakes, the host turned to Rick and said; "I understand you want to help our children. I am the chairman of the Social Welfare Committee of St Petersburg City Council." Rick realised that his earlier comment about wanting to help the "street kids" had been taken at face value - and now he was on the spot. Rick agreed to attend a meeting with the City Council the following morning. That night Rick hardly slept as he developed a plan.
Next day, accompanied by a translator and two other Britons on the tour, Rick attended the meeting in Smolny - the old Communist Party HQ in St Petersburg. By the end of the day, they had acquired two buildings in the north of St Petersburg. They were in the lake district of the city - called Ozerki.
The buildings were dilapidated, two-story, pre-revolutionary constructions with huge horizontal tree-trunks inside the walls, much like giant log-cabins. They had ornate decoration on the outside and were painted a restful green. The local area was very quiet - situated among sand-dunes and pine trees. It was perfect. Here in Ozerki a two-year project began to refurbish the buildings as a home and school for 50 street kids at a time, and then rehabilitate them back into Russian society.
Using his expertise as a documentary film-maker, and having a video camera with him, Rick spent the last few days of this Russian visit to make a film about the street kids and their desperate plight. He discovered that most were orphaned, and many of the teenagers were struggling to survive as prostitutes. The film would become invaluable during the subsequent fund-raising process in the UK.
Ozerki, St Petersburg, Russia
Caring Hands Project
1992 - 1994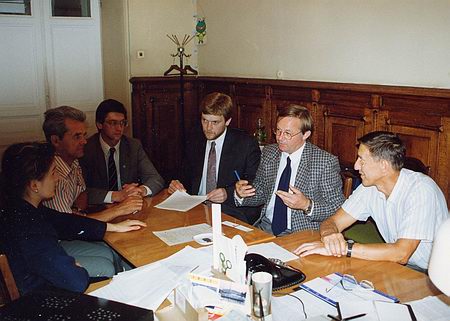 Rick negotiating with the St Petersburg City Council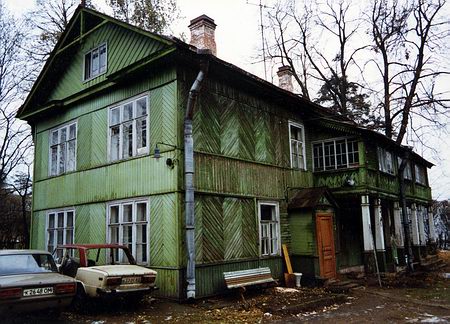 One of the original two buildings before renovation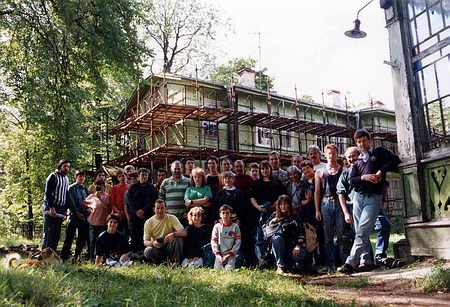 Some of the Caring Hands volunteers from England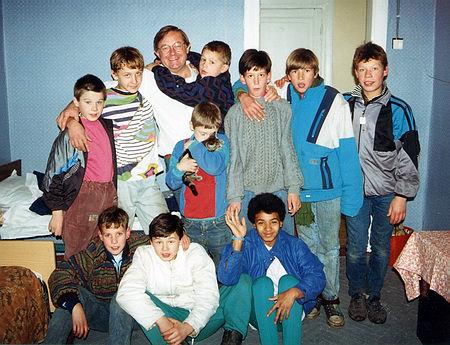 Rick with some of the kids in their new home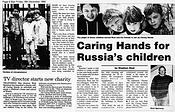 (click page)
Throughout 1992 and 1993, Rick and his associates developed the Ozerki project - and a Charity was created with the name "Caring Hands". They appointed 12 regional representatives who would seek support from local churches around the UK.
After a volunteer British surveyor had visited the site in St Petersburg, a list of repairs and materials was drawn up - including, paint, nails, copper pipes and entire bathroom suites. Rick created Media Packs which included copies of his video about the desperate street kids. These were distributed around the UK regions, particularly via church networks, to help generate interest in the project and to start fundraising for money and materials for the refurbishment of the buildings in St Petersburg.
It was decided to recruit professional craftspeople who would pay their own way to get to St Petersburg and spend a Summer working on the site. Rick then became a travel agent, and looked after the administration of the flights and accommodation. In all, 150 volunteers went out to St Petersburg by Aeroflot. These included skilled electricians, painter-decorators, and several plumbers provided by the Severn-Trent Water Company - all on full pay - to install three entire bathroom suites also provided by Severn-Trent. Copper pipe came from Wednesbury Tube, and Crown-Berger provided the paint. Food came from Marks & Spencer and dozens of smaller businesses provided a wide range of tools from hammers to compressors.
All the materials went by 40-ton articulated truck generously provided by BOC Euroshield. This travelled by ferry to Finland and was driven from there down to St Petersburg.
The skilled craftspeople were supplemented by a large number of unskilled volunteers who paid their own way to get to Russia from the UK to help on the project. These became instant trainees, and helped wherever necessary. Together, everyone had a wonderful time, making new friends, sightseeing in St Petersburg, and importantly, meeting some "street kids" face to face.
Once the buildings were complete, they were handed over to an existing charity called Redkidz, who had huge experience of working with traumatised young people in Russia. They badly needed space to operate, so it was an ideal arrangement. Redkidz provided all the staff for the new home.
Today, Caring Hands are still busy in Russia. The Charity also created a shelter for "street kids" right in the centre of St Petersburg, and they are currently involved in hospital renovation in the city.
In 1995, sensing his work done, Rick decided to withdraw from the Caring Hands project, and get back into full-time occupation as a film and television director. But it wasn't long before Rick saw a new opportunity to help another charity in Eastern Europe - this time working in Romania. Consequently, Rick has produced two films for Channel 4 Television about everyday life in Romania since the Revolution. In 2004 Rick gave his support to a project organised by the British Embassy in Moscow to help "street kids" in that city.